With crisp air and warm tones, fall is the perfect time to take family photos. This ultimate guide to fall family photos will walk you through everything you need to prepare for your photo session.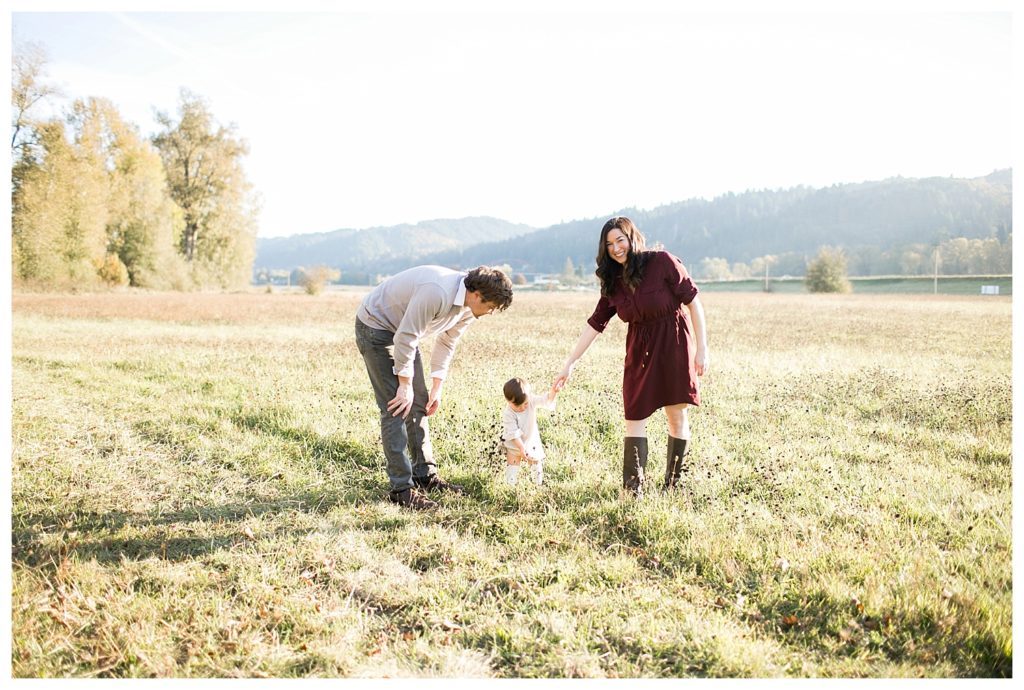 When To Book Your Fall Photo Session
Did you know that photographers often book their portrait clients 2-3 months in advance? Its true!
If you are hoping for beautiful autumn leaves as a backdrop for your photos, you'll want to start planning mid to late summer. Contact your photographer in July or August.
To use your photos for Christmas cards, you'll want to make sure you book your photographer no later than the first week of November.
Ask your photographer how long it takes to receive your digital files. In general, a typical turn around time is 2-3 weeks. Receiving your photos before December 1st will give you time to order Christmas cards and send them out.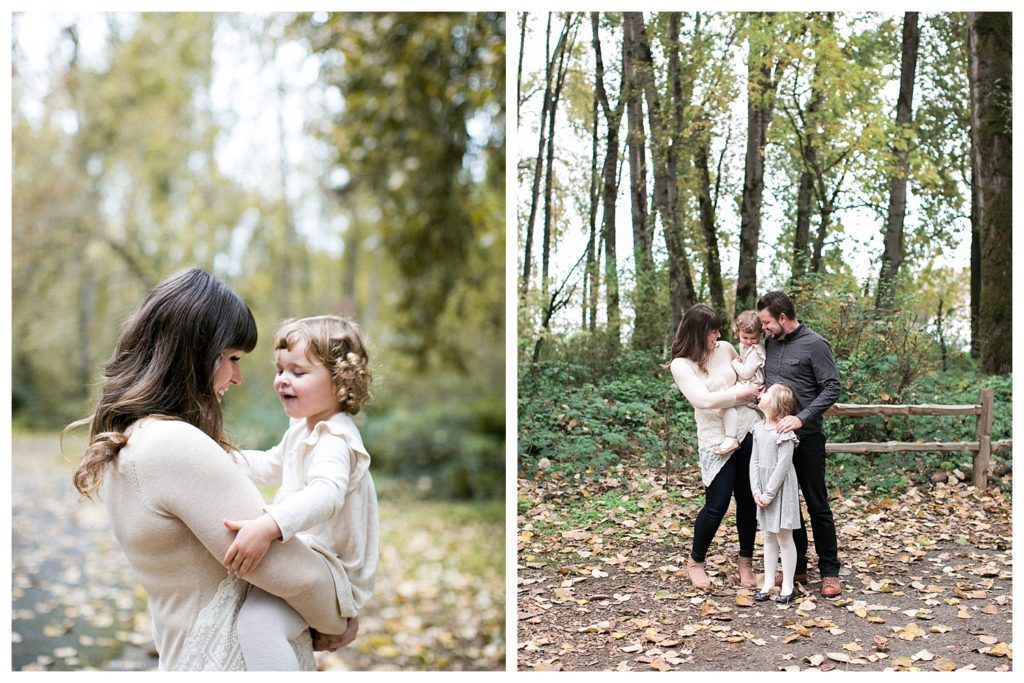 Plan your autumnal photo shoot when the leaves are at their peak. This varies depending on your geographic location and the types of trees that are in your area. Ask your photographer for a list of local areas that showcase beautiful foliage. Keep an eye on the weather as well, as stormy weather can cause leaves to drop sooner.
What to Wear to Your Fall Family Photos
Wardrobe planning can be a stressful part of your photo shoot, so here are a handful of ideas that should help you choose your clothing for your family photos.
Your outfits should be reflective of you families personality but can also celebrate the festive spirit of the holidays. Here are several different color schemes and why they work well: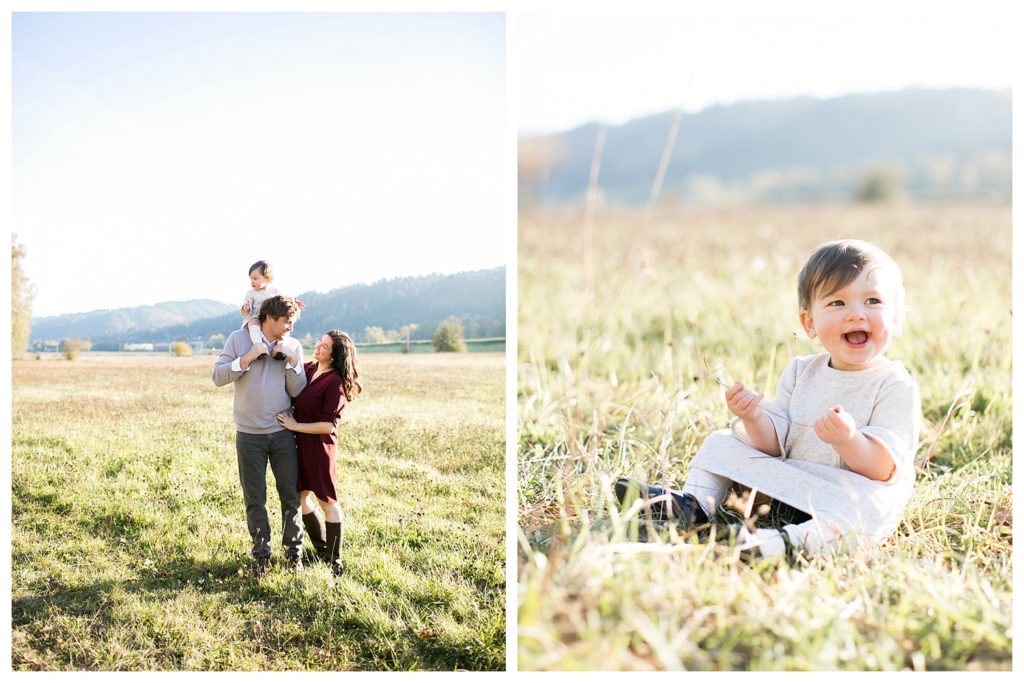 Burgundy, Gray and White
There are so many colors that work well for family photos, but I think burgandy is one of the best!
Burgundy is a deep red that not only looks autumnal but also has a festive holiday feel. Paired with white and gray tones, this is a beautiful look that has subtle festive vibes and would look wonderful on holiday cards.
This sweet family chose to go semi formal with a pretty dress for mom and baby and a wool sweater with button up shirt for dad. Keep everyone in the same outfit genre, whether formal, casual or semi casual.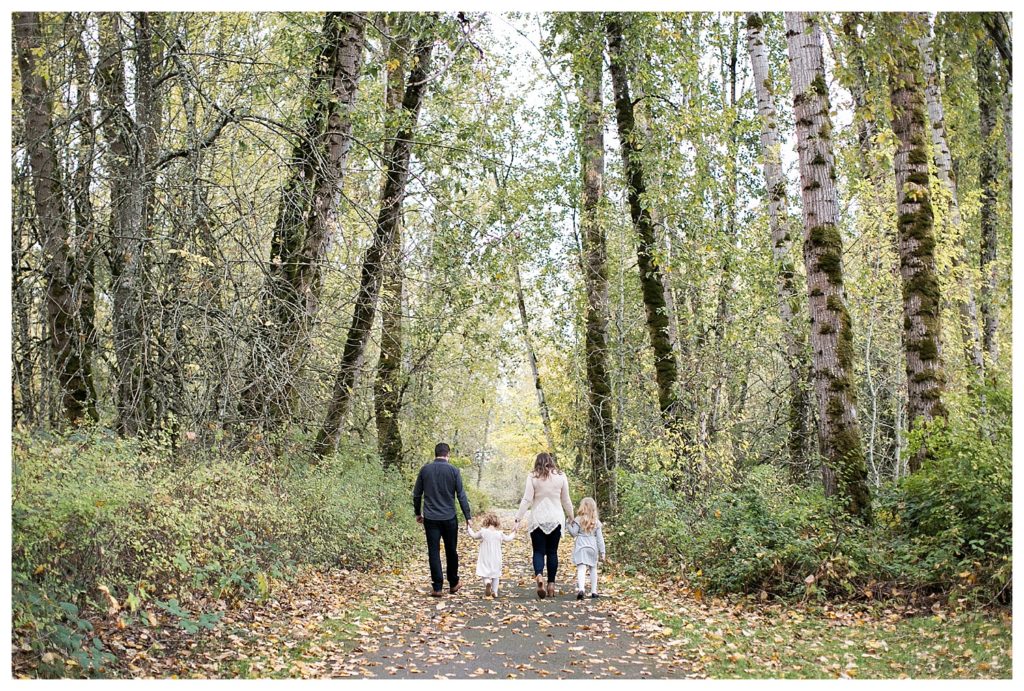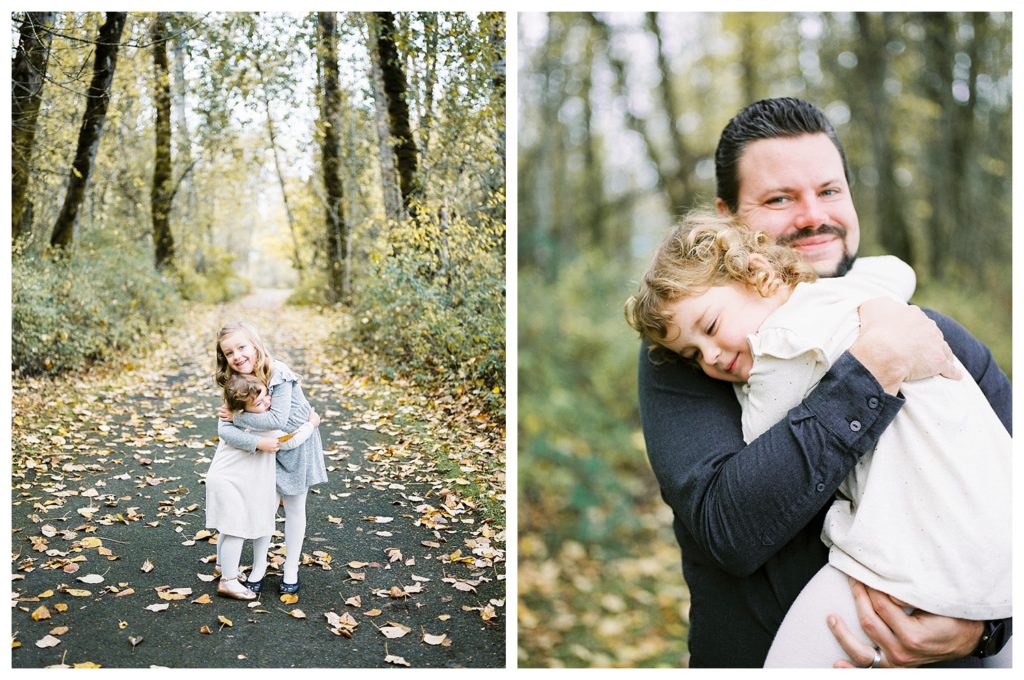 Grey, Black, and Cream
I love how these neutral tones coordinate so well together and compliment the colorful autumn background. Keeping clothing colors neutral gives a sophisticated feel to your photos.
You can use neutral clothing as your base and then add a pop of color (think red, gold or green) to your Christmas cards. Neutral tones are also very easy to coordinate!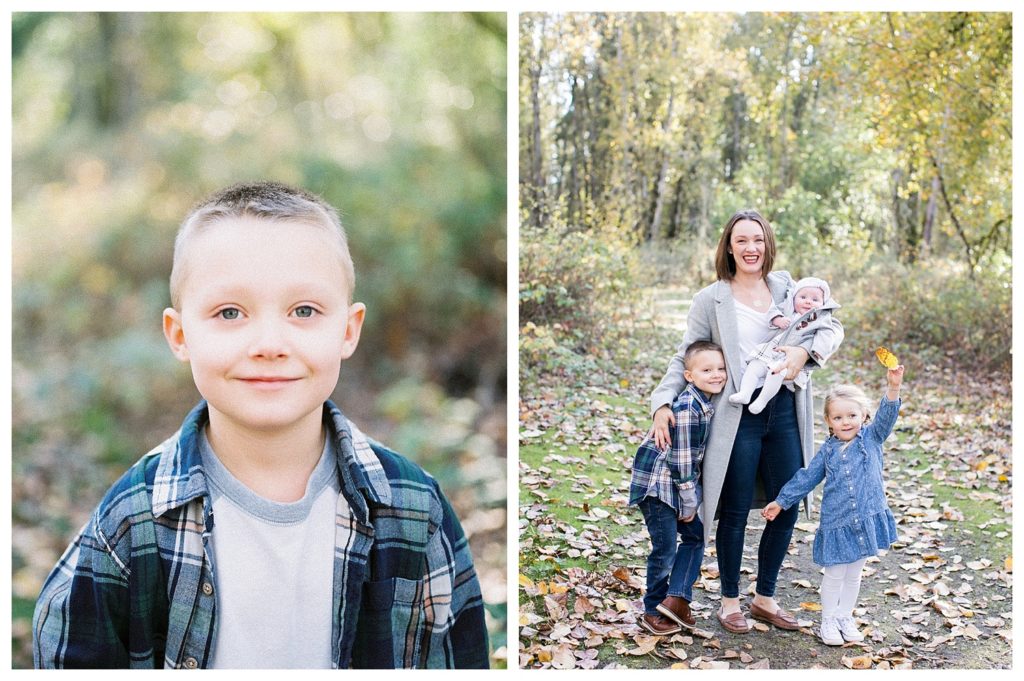 Blues + Greens
I love how this family pulled together blues, greens and grays. The colors look beautiful paired with the crisp yellow and brown leaves.
They opted for a more casual look, but everyone still looks pulled together and festive, making this a fun option for Christmas cards or prints for family members as gifts.
Note how mom and baby are both in gray and white, which pairs well with the green and blue tones of the rest of the family.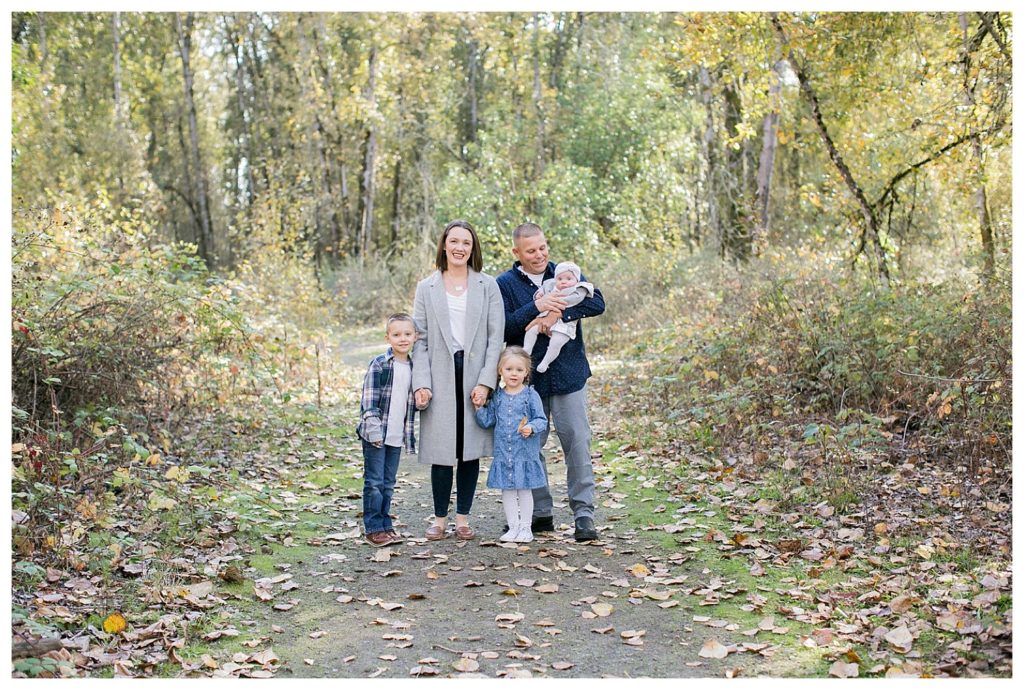 A Few More Tips for Fall Family Photo Session Outfits
A few more tips for your outfit ideas:
-As mentioned before, keep everyone casual or formal for a cohesive look
-A blend of neutral tones always works great!
-Make sure your clothes are ironed and wrinkle free.
-Add in some fun with a few prints that aren't overbearing.
-For timeless photos, avoid bold logos and cartoon characters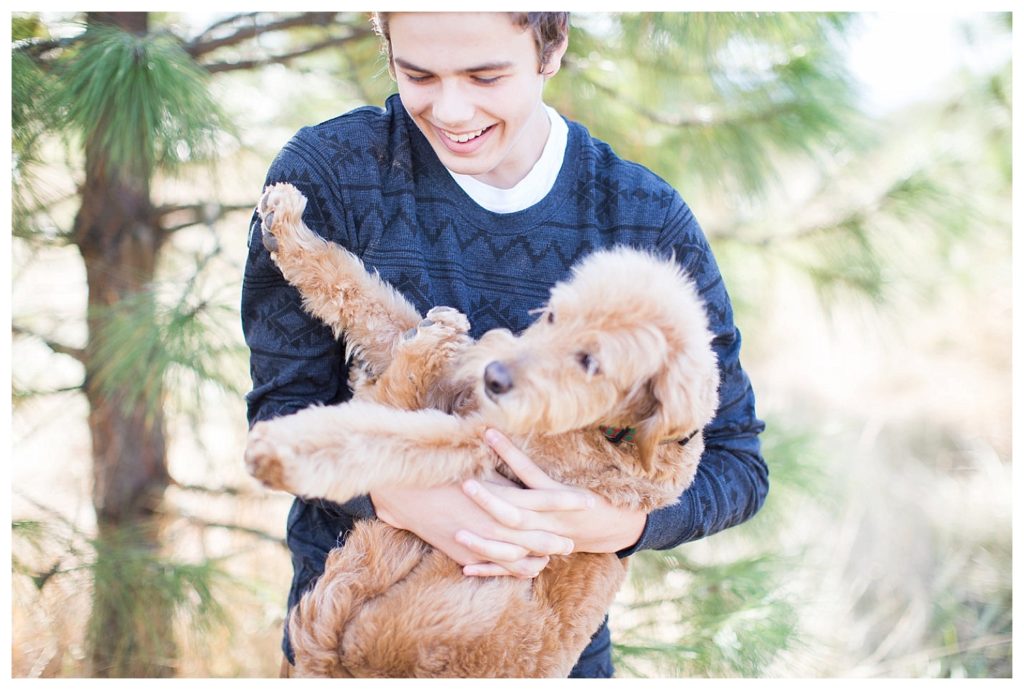 Fall Family Photo Ideas (Creative and Classy
While I love classy photos and tend not to encourage using a ton of props, I do have a few creative ideas that will look timeless in your photographs!
Pumpkins can be a really fun seasonal addition to your photographs. Think outside the box for the best tones! Pumpkins come in a variety of colors: green, white, muted orange, and even gray!
Use this to your advantage and avoid using bright orange pumpkins that might steal the show. 😉 You can also find pumpkins in all shapes and sizes.
For a holiday feel to your photos visit an evergreen area with fir trees. Even if its bright and sunny, the green trees will be reminiscent of Christmas and work beautifully in your photos.
Include your pet! Some families today consider their pets to be their children. I totally get it, we have a fur baby in our family as well! Including your dog (or horse, goat, etc… 😉 gives the opportunity for fun Christmas cards.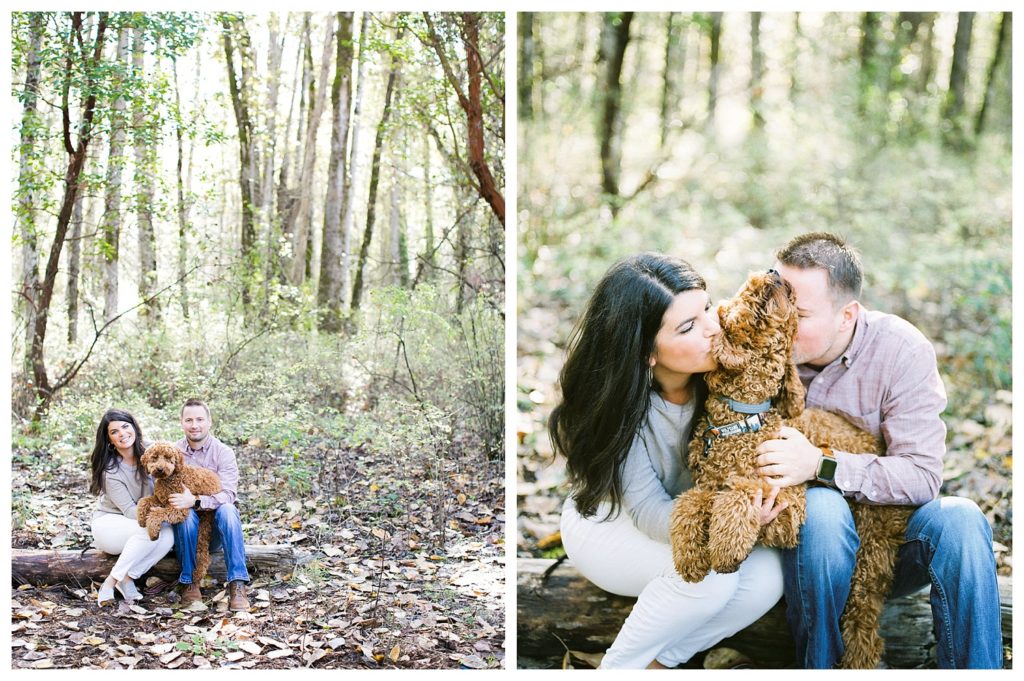 Classy Prop Ideas for Your Family Session:
Here are a few easy prop ideas to add to the fall feeling of your photo session:
A burgundy or plaid blanket to snuggle up in
Wood adirondack chairs set beneath a tree
Wooden toys for kids to play with
A simple picnic basket
Beautiful seasonal apples from a local farm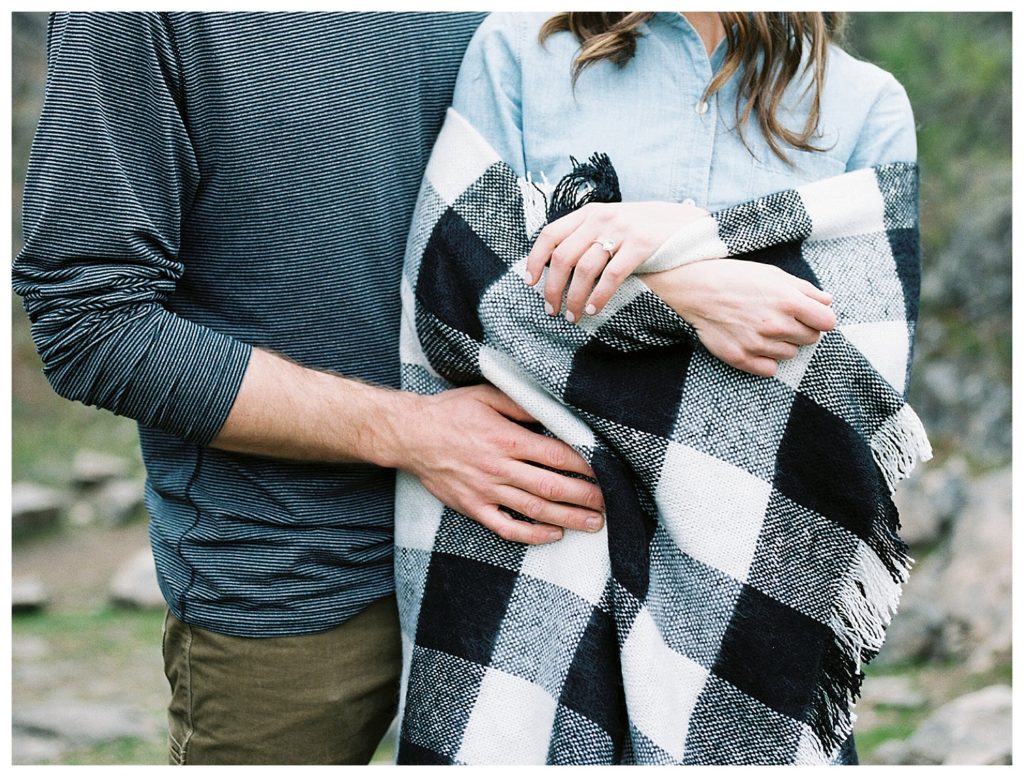 Leaves falling, pumpkin lattes and the anticipation of holidays… autumn is the perfect time to celebrate your family with a family photo shoot. I hope these tips helped gave you plenty of ideas for your family fall session.
If you are looking for an Oregon based photographer with a light and airy style, that's me! Please use the contact form here to book your session!
Read about planning a beach family photo shoot here.
Tips for your maternity session can be found here!