A Complete Guide to Your Maternity Session
I love photographing women at all stages of their lives, but after having four children myself maternity photography has become even more of an honor! Nine months can feel like an absolute eternity when waiting to meet your new baby and maternity photography gives an expectant mother something to look forward to while waiting for her sweet babe to arrive.
From extra doctors appointments to prepping the nursery, pregnant mamas have a lot on their plate. (Not to mention the debilitating fatigue!).
When growing a little one I always feel tapped out, and extra tasks are truly overwhelming. So, I wanted to share a complete guide to finding your maternity photographer and navigating your photo session for those mamas who are starting to book their maternity photos.
How to Choose Your Maternity Photographer
You will want to first consider the style of photography that you love the most. Photography is an art, and every photographer has a style that is unique. That being said, there are several styles of photography that tend to be popular.
Bright and airy, luminous photography is very popular (and what my style tends to be, personally). Other photographers take a more moody approach with lots of shadows and contrast. And of course there are photographers who have a more simple, candid approach. As long as the photographer is technically proficient, there is no right or wrong way to a photography style. Just make sure you book the artist that resonates with you!
1.Peruse Online Galleries to find Your Style
Take some time to peruse photo galleries online using Pinterest. Put together a board of your favorite images and look for a theme. You will want to contact photographers in your local area with a similar look and feel to your images. Once you've determined the style of photograph you love, your search narrows dramatically. You can find photographers in your local area using google or Instagram and contact the ones whose work you love.
2. Read Reviews
Once you've nailed down your search further, be sure to read reviews and testimonies of the photographers you have in mind. A solid photographer will have reviews on their website, but also considering reading through reviews on google, yelp or weddingwire. Make sure the reviews mention how the photographer interacts with their clients, to ensure you will feel comfortable and at ease in front of the camera.
3. Email Your Ideal Photographers
Email a few that you love to determine the schedule, pricing and end products that you will receive.
Look for a photographer that has prompt and kind communication. Being photographed is a vulnerable experience and you want to be sure you choose a photographer not only for their art but because you feel comfortable with their personality and approach.
What is lifestyle maternity photography?
Photos depicting a mom in the comfort of her own home, drinking tea, reading a book and relaxing are great examples of lifestyle photography. I find it a wonderful idea to incorporate lifestyle photos with some luminous portraits like the ones featured below!
"Life's biggest miracle is the gift of having life growing inside of you."
When to Book Your Maternity Photography
Every mom and every baby bump is truly different, so timing of a maternity session can be a bit nuanced. You can go by a few general ideas however:
Early third trimester can be a really great time to take photos, between 28 and 34 weeks. Your bump should be showing nicely and you still have some energy left to plan for and participate in the session.
You also should not be experiencing the extreme discomfort that can happen in the last month of pregnancy, and swelling should be minimal.
You will want to be sure to book your photographer shortly after your first trimester, or around 12 weeks. This will give you several months to plan for your session and also ensure that your photographer has room in their schedule for your session.
Location: Where to Shoot Your Maternity Session
The sky is the limit for your maternity session location. If you have ample indoor window light you can consider taking your photographs indoors. Taking photos in your nursery is a wonderful way to celebrate baby and capture the hard work you've put into the nursery details.
Make sure to work with your photographer to ensure there is enough beautiful natural light to work with.
You can also photograph in a natural wooded area, a gorgeous overlook, or at the beach. For a natural and relaxed feel, I always recommend avoiding playgrounds, busy areas, and overly manicured parks.
My client Angel chose to photograph both indoors and at a nearby nature area. She did a fabulous job of designing her nursery and setting up a cute breakfast nook lifestyle photos.
Photographer's Note: It's all about the light! In home maternity sessions can be absolutely beautiful, and its all about finding the best light to work with. Prior to your in home session I love to receive an email with a few iphone snaps of each room in your house. The best light for this maternity session ended up being in the combined living/dining area. While we still photographed in the nursery, we will able to get some luminous portraits in the main living area.
We have so many amazing options if you live in the Northwest: the coast, the mountains, and wine country are all within a one hour drive of Portland!
What to Wear for Your Maternity Photography
From dramatic and whimsical to simple and modern, your maternity wardrobe is a wonderful way to express your personal style. Make sure you feel comfortable and confident in your outfit choice and bring more than one option to your session.
It has always been a challenge for me to find dresses I love to wear when I'm pregnant, so I would be the first to encourage you to try many options until you feel both comfortable and beautiful!
In this session, Angel had an adorable cozy at home theme going and wore a beautiful robe and cute button down t shirt for her session. She used her maternity outfits to express her personality, and it turned out beautifully.
Some gorgeous maternity dresses can be found here!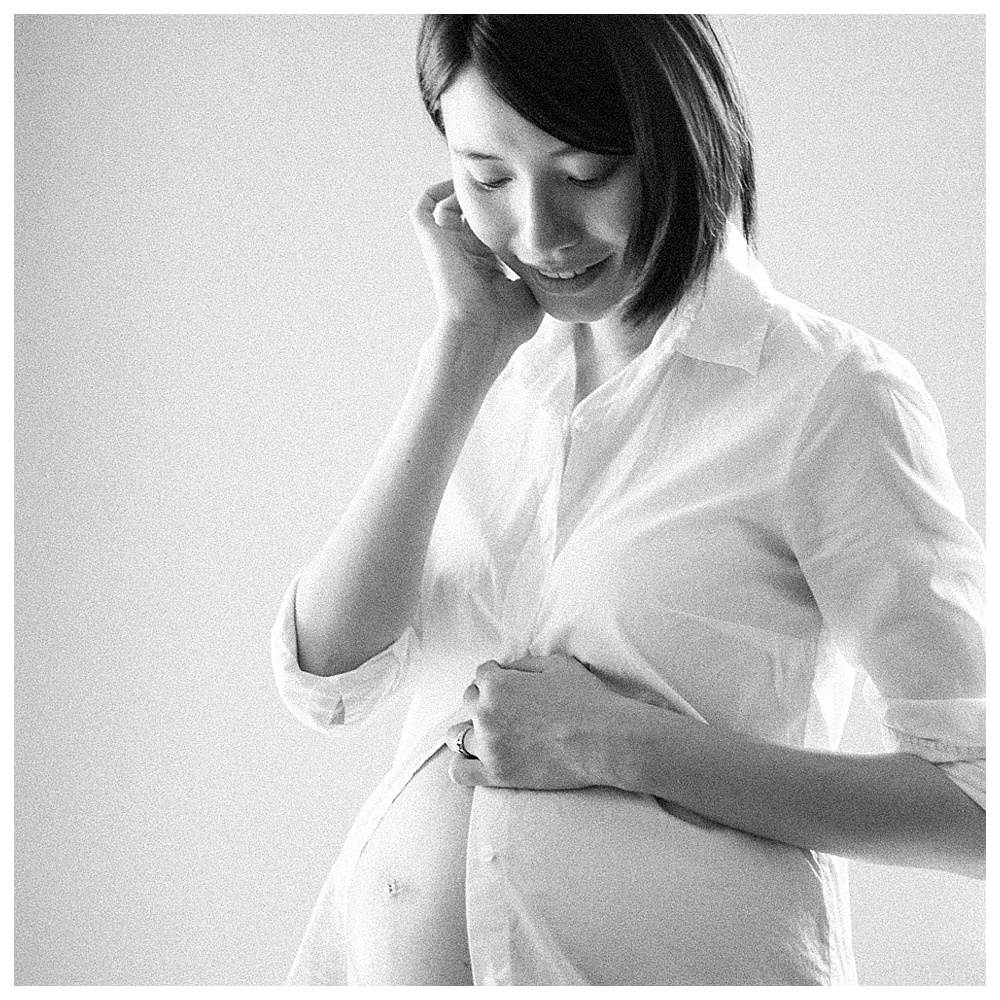 What to Expect During Your Session
Once you've found your photographer and your maternity session is booked, you can relax and look forward to your shoot! Your photographer should be doing the heavy lifting at this point, giving you ample guidance on location, what to wear, and what to expect.
I'd love to give you a peak into one of my maternity sessions:
You're finally able to check "book photographer" off your to do list and its time to celebrate!
From there, I send you detailed information on locations, wardrobe and timing of the shoot. We email back and forth a bit and you send me a few photos of your home to determine lighting. You also send me photos of your outfits so I can help if needed.
A few weeks before the session, I email to make sure you are feeling well and we confirm our time.
On the day of the session I arrive with all my equipment and we have a relaxed, fun and affirming shoot. I give you TONS of direction and never make you second guess what to do or how to pose. We take breaks, change outfits and chat about your sweet babe! We do a few outfit changes and may head to a second location.
The session wraps up after 2 hours (with time for breaks), and I leave you feeling confident and beautiful.
Your photos are delivered to you via an online gallery within 2 weeks of the session.
Photographer's Note: I allow for around two hours for maternity sessions. This allows us time to change wardrobe and locations, stop for breaks and rest, and take out time finding the perfect light. Prepare your spouse ahead of time for the time commitment, and maybe plan to grab dinner just the two of you after as a special treat.
"Life's biggest miracle is the gift of having life growing inside of you."
Portland Maternity Photography
If you are reading this blog post and looking for maternity photography in the Portland, Oregon and surrounding areas, please feel free to contact me here or email jamie@jamieraephoto.com. I am located in Forest Grove, Oregon. Travel is available to the following areas: Southwest Washington, Portland and surrounding areas (Beaverton, Tigard, Hillsboro, etc), Salem and our coastal towns of Cannon Beach, Seaside, etc. Out of state travel is also available.